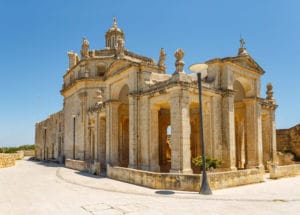 Each year Radju Marija publishes its own calendar and for 2021 each month is enhanced with a beautiful photograph of a country chapel dedicated to our Lady around the Maltese Islands. This interesting information has been collated by Mr Louis Fenech.
January – Church of Our Lady of Divine Providence, Siġġiewi
The Church of Our Lady of Divine Providence is one of many small churches in the village of Siġġiewi. Siġġiewi is an old village and in older times consisted of many smaller hamlets which through time were engulfed by the larger village thus making it easier for all to be reached by the clergy and in every day needs. The hamlets included Ħal Kbir, Ħax Xluq, Ħal Qdieri, Ħal Niklusi and others of which only the names remain together with some small churches and chapels.
When Mons Pietro Dusina visited Siġġiewi, he wrote that there were 46 churches, 21 in the village, 6 in Ħax Xluq, 4 in Ħal Kbir, one in Ħal Qdieri and 14 others scattered in the countryside.
The Church of Our Lady of Divine Providence is in the hamlet of Ħal Kbir of which only the name remains as through time it started forming part of Siġġiewi. At the beginning this church, which is very old, was dedicated to the Holy Family's Flight to Egypt. It was not well tended so Bishop Alpheran de Bussan in 1747 desecrated the church. But the parish priest at that time, Dun Mikielanġ Mamo was not pleased and he asked the Bishop permission to restore the chapel to a better state. When the Bishop witnessed the parish priest's zeal and enthusiasm, he accepted his demand and he himself consecrated the church on the 28th of April 1747.
After three years, the church was damaged and the parish priest and Dun Nikol Borg worked tirelessly to have it rebuilt once again. After being granted permission from Bishop Alpheran, the first stone of the church, still standing today, was laid on the 4th of November 1750. The church was blessed on the 16th of September 1753.
The first titular painting, paid by Parish Priest Mamo, depicted the Madonna and Child surrounded by angels and also featured St Michael. In the lower part one could see the souls in purgatory. The painter was Enrico Arnaux. In 1804 this painting was transferred to the sacristy and replaced by another painting of Velasco depicting Our Lady standing on clouds with arms open blessing the fields. Unfortunately this painting was stolen together with some other ex-voto paintings.
In 1815 the church was damaged due to a lightning strike. As a result the portico we can admire today was built in order to repair the damage. This work was paid by the nephew of Parish Priest Mamo, Dun Pietru Pawl Saliba. The church has a dome and a church tower which has a single bell featuring Grandmaster Pinto's coat of arms. Pinto held a special devotion for Our Lady of Divine Providence.
In the church one finds a marble altar underneath the titular painting together with other artistic paintings that unfortunately suffered damage due to humidity. There are no indications as to who may have been their author. These paintings depict St Paul the Hermit together with St Anthony the Abbot, another painting depicts St Caetan and St Philip Neri and another one shows the Assumption of Our Lady. They might belong to the school of Francesco Zahra. Their restoration was carried out in 2005 and 2006. Patrimonju Kulturali tas-Siġġiewi, a group founded by the Parish Priest Dun Albert Buhagiar, saw that ReCoop, a Restoration and Conservation cooperative, carried out all necessary works to restore the paintings.
There are other paintings mainly a copy of a painting found in St John's Co-Cathedral depicting St Cosmas and St Damian, the twin physician saints.
One also finds paintings depicting the Conversion of St Paul and another of the Holy Family's Flight to Egypt and St Philip banishing evil spirits from a young girl. There is also a statue of St Roque.
At the altar's side there is a Turkish cannon ball, as a remebrance of the Great Siege. There were about 550 persons from Siġġiewi who defended the bastions. It might have been brought as a memorial for these brave people.
The devotion towards Our Lady of Divine Providence has ancient roots. There are still some ex-voto paintings from those which were stolen years ago.
On each side of the church there are low windows that make it possible for the faithful to place candles or recite a prayer when the church is closed.
The church celebrates its feast on the first Sunday of September. The church is decorated with damask and other embellishments. The street and the square are lit up and decorated with festoons and flags. Many are those who attend for this feast not only from Siġġiewi but from all over Malta.
There used to be a daily mass at 4:00pm up to the feast day. Previously there used to be a mass every Wednesday at 9:30am, every Saturday evening and on Sundays and feast days.
The church is very well maintained and one should visit it in order to appreaciate and admire its beauty.