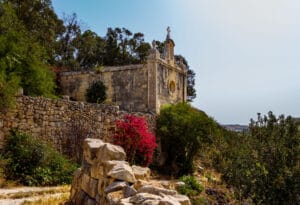 Overlooking the valley, in a very quiet area where one may enjoy hearing farmers tending to the field, there is a small chapel dedicated to the Immaculate Conception.
This church was commissioned by the Noble Garzia Monpalao in the early 16th century. At first the chapel was dedicated to the Nativity of our Lady.  But after being rebuilt after having been left unattended, through a decree of the 30th June 1717, Bishop Cannaves ordered that the chapel be dedicated to the Immaculate Conception and the feast to be held on the 8th of December.
The chapel has a rectangular shape and the stone altar was in an apse holding the painting of the Immaculate Conception. On each side of the altar there are two doors which in older times used to lead to the sacristy.
The chapel has a simple facade. Two pillars reach to the ceiling. A squarish door, between two windows used by passersby to stop and say a prayer when the chapel is closed. On the door there is a coat of arms with a crown but the inscription is not clear. Another window is at the around the sixth course permitting natural light in the chapel.
On the aperture there is the frontispiece with an arch where there used to be a bell. On the frontispiece there is a stone cross.
Nowadays the chapel is abandoned and totally devoid of any objects and one wonders how come it has not been restored.
One may say without any doubt, that the people of Malta and Gozo have always been devout of our Lady under various titles bestowed on her. We must not forget the many altars found in parish churches dedicated to the Immaculate Conception and painting depicting her according to the artists' impression.