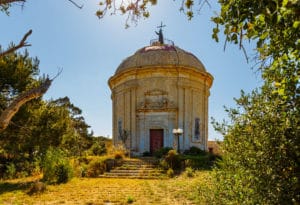 Situated on a hill on the east of Rabat, this church which has always been dedicated to Our Lady of tal-Virtù, boasts beautiful views of the Maltese countryside. The church forms part of the mensa vescovile, but is part of the Rabat Parish. Unfortunately it is built on cracked rocks and every time there are tremors it suffers damage.
The church was built on a crypt in 1438, on a piece of land known as Ta' Formaġġ belonging to Antonio di Bigliera, who together with Bortolomeo de Bordini paid for all its expenses as recorded by Notary Sillato on the 28th of May. Originally this church had a rectangular shape, most probably with a flat ceiling as was customary at those times. It had a simple bell tower and a bronze bell. It had one stone altar on which there was a painting showing the Madonna with Child.
The church sufferred extensive damage in the earthquake of 1693 and had to be rebuilt where it stands today a few metres away from its original site. Canon Don Antonio Castelletti decided to rebuild it and contributed graciously towards this project. Unfortunately the monies collected were stolen by thieves. But people contributed once again by donating money, gold and silver. The nobility of Mdina also contributed as did Grandmaster Vilhena and the Univeristy of Mdina and church officials.
Building started in May 1717 when some people were engaged to start cutting the stone from a nearby quarry. The church was built under the guidance of Petruzzo Debono on a plan very similar to the Church of Sarria in Floriana made by Mattia Preti. Works stopped for many reasons mainly when waiting for the stone. One must keep in mind that in those times transport meant horses and carriages.
The building lays on remains of Punic, Phoenician and Roman tombs. Further down there is a paleo-christian hypogeum and there is also a medieval crypt in the form of a Latin cross with three apses and one altar. One needs to go down some steps to be able to see this crypt carved in stone.
Mons Dusina in 1575 writes that this church was dearly loved and had more than one altar. Along the years there have been many pastoral visits including that of Bishop Gori Mancini who confirmed the devotion this church had especially amongst the people of Rabat and Mdina.
The church had all that was needed for liturgical services. There was a time when the feast of Christ the Redeemer was celebrated every year as was the feast of the Assumption with vespers and solemn mass. Mass was also celebrated on Sundays and Feast days.
In 1658, when Rabat still formed part of Mdina, through a decree of Pope Alexander VII the church was given to the Augustinian Friars who took care of it for two years until Grandmaster De Redin redefined the borders of Rabat and Mdina.
During the 18th Century there were several tremors leading to damage to the dome and church. The lantern eventually was replaced with the statue of Christ Redeemer. The church underwent extensive restoration.
Up to a few years ago, as now it is being cared for by another family, it was the Mangion family that paid for its maintenance and upkeep. They also carried out extensive works in the surrounding grove. The church was used by prayer groups and for socio-religious activities.
Nowadays this church is not being used but it is still being cared for.