Radju Marija does not air any commercial advertisements and depends solely on donations from listeners. To help Radju Marija continue its evangelisation mission you may:
Leave your donation at our reception at 40, Triq San Vinċenz Ferreri, Rabat during opening hours.
Send a cheque payable to Radju Marija - PO Box 19 RBT 1230.
As from 1st January 2022, due to a new directive issued by the Central Bank of Malta, cheques below or equal to €20 cannot be issued or subsequently cashed. As a result any cheques of €20 or below written to Radju Marija CANNOT be cashed and will have to be CANCELLED.
Send a donation by sms:

5061 8063 to donate €4.66

5061 9278 to donate €11.65
Send a donation by calling:

5160 2046 to donate €10.00

5170 2019 to donate €15.00

5180 2047 to donate €25.00

5190 2091 to donate €50.00
Deposit a donation in Radju Marija's bank accounts:

APS BANK

IBAN: MT31 APSB 7705 7006 0638 2000 0834 148
A/C ACCOUNT NO: 20000834 14-8

BANK OF VALLETTA

IBAN: MT09VALL2201 30000000 14609142012
A/C ACCOUNT: 14609142012

HSBC

IBAN: MT05MMEB44587000000058030875050
A/C ACCOUNT: 058-030875-050
You can donate to Radju Marija using BOV Mobile to Mobile available on the BOV app using 79453107.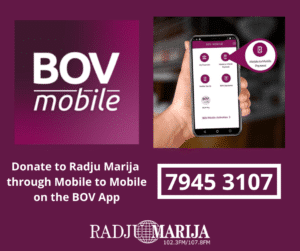 Send a donation through Paypal by filling the form underneath.
Radju Marija also gratefully recieves donations in the form of inheritances and legacies.
One may also ask for donations to be sent to Radju Marija instead of flowers when placing obituaries and in memoriam announcements on radio or newspapers.
Radju Marija thanks all its benefactors and may God bless you all!
VO/1584